YHR's 2021 Virtual Eisteddfod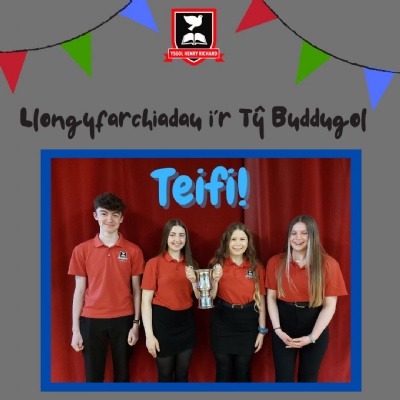 There was a lot of buzz in the school recently as we held a virtual school Eisteddfod.
We saw all kinds of competition from the traditional such as soloists, vocalists, instrumental and art items to completely different items such as What's your Talent? and a 'Bringing an Idiom to life' competition. The intention this year was to give everyone the opportunity to participate in some way and it was nice to see items that we would not normally see on the hall stage.
A host of Welsh celebrities were invited to adjudicate and we greatly appreciate them for taking the time to critique and deliver their criticisms through the screen. All results were shared on the school's Microsoft Teams and publicly through our social sites.
This year, Hanna Hopwood announced that Megan Dafydd had won the Chair and that Zara Evans had won the Shield. Congratulations also to Mari Williams and Ola Maziarz for winning the Year 5 and 6 Chair and Shield.
On Monday, April 26th, Teifi was announced as the winner this year with Aeron in close second and Ystwyth taking third place. Congratulations to Catrin Lloyd and Megan Herberts, the captains of Teifi and to the deputy captains, Elin Davies and Tomos Lloyd for leading their house to victory in a different and unique Eisteddfod. Congratulations also to the following for receiving special prizes for their success at the Eisteddfod.