Bag2school Collection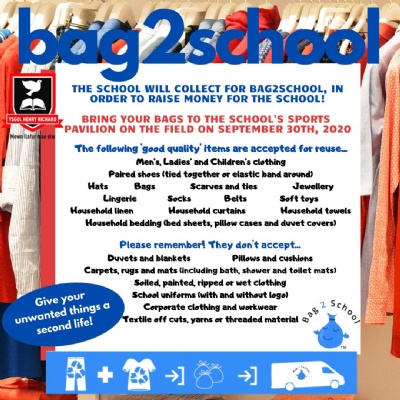 Ysgol Henry Richard gives a second life to the things you no longer want!
Lockdown was a perfect time to get the house in order and many of us have been clearing out cabinets and drawers which have been untouched for years! How many times have you heard someone say recently 'this is a perfect opportunity to get a really good clear-out '? Well, the question then is, what does one do with all the goods he wants to get rid?
Ysgol Henry Richard is currently organising a Bag2School collection which will take place on September 30th. If you have any black bags with 'good quality' goods the school would be very grateful to receive them at the sports pavilion on that day. See the attached picture for more details of what can be donated. Visit https://bag2school.com/ to read more about how the process works and how your donated goods can start their second life in the new world of the circular economy while raising incredible funds for school !